Meet Jeff Marshall, the Kite Maker of the Tenderloin
Words + Photos for KQED Arts
It was 1993 when Jeff Marshall, a 35-year-old born and raised Houstonian, had enough of the Texas heat. So he hitched up his motorcycle and headed for Seattle.

Except he never quite got there. Twenty-five years later, Jeff is an irreplaceable member of his Tenderloin community, a painter with a contagious passion for kites. When his creative impulses get bigger than his one-room apartment, he takes to the streets and flies his paintings across the San Francisco skies, proving art can thrive in even the most improbable places.





For Jeff, art is a compulsion, not a choice. "I continuously think of a different path to take," he says. "I make more art than is very smart. It is part of my M.O.—to just keep creating.
Over the years, Jeff watched the city's artistic character change. Even in 1993, San Francisco wasn't cheap, but thanks to the current tech boom and sky-rocketing rents, it's ever-harder for artists to make ends meet. As high-rise apartments and new restaurants move in,
artists are steadily priced out
.
Jeff bounced around the city, renting $400-per-month office spaces and living in his studio until he finally found a home in the Tenderloin, one of San Francisco's densest neighborhoods. Despite its reputation for crime, the Tenderloin has a rich history—entertainment and the arts are woven deeply into its cultural fabric. This, coupled with its low-cost housing options, allows the neighborhood to
resist the gentrification
seen throughout the rest of San Francisco.
Jeff now lives in the Boyd Hotel, a single occupancy resident hotel, or an SRO. Such repurposed hotels make up a large portion of the Tenderloin's housing stock; nonprofit housing programs and zoning laws keep rents below market rate and a viable option for artists like Jeff.
For many members of the city's low-income communities, such as the formerly homeless, recovering addicts and disabled veterans, SROs are a vital affordable housing solution. As Jeff says, "All of the people who live in this building... they're not here for no reason."


But space limitations don't quell his urge to create. Jeff's walls are plastered with artwork: cartoon-like portraits of William Burroughs and Jimi Hendrix, abstract canvases of repeating number nines, and next to his single window, a burlesque-style portrait of two men, posing in lingerie.

"That's Vladimir Putin and Erdogan; he's the prime minister of Turkey. I saw that on Google Images."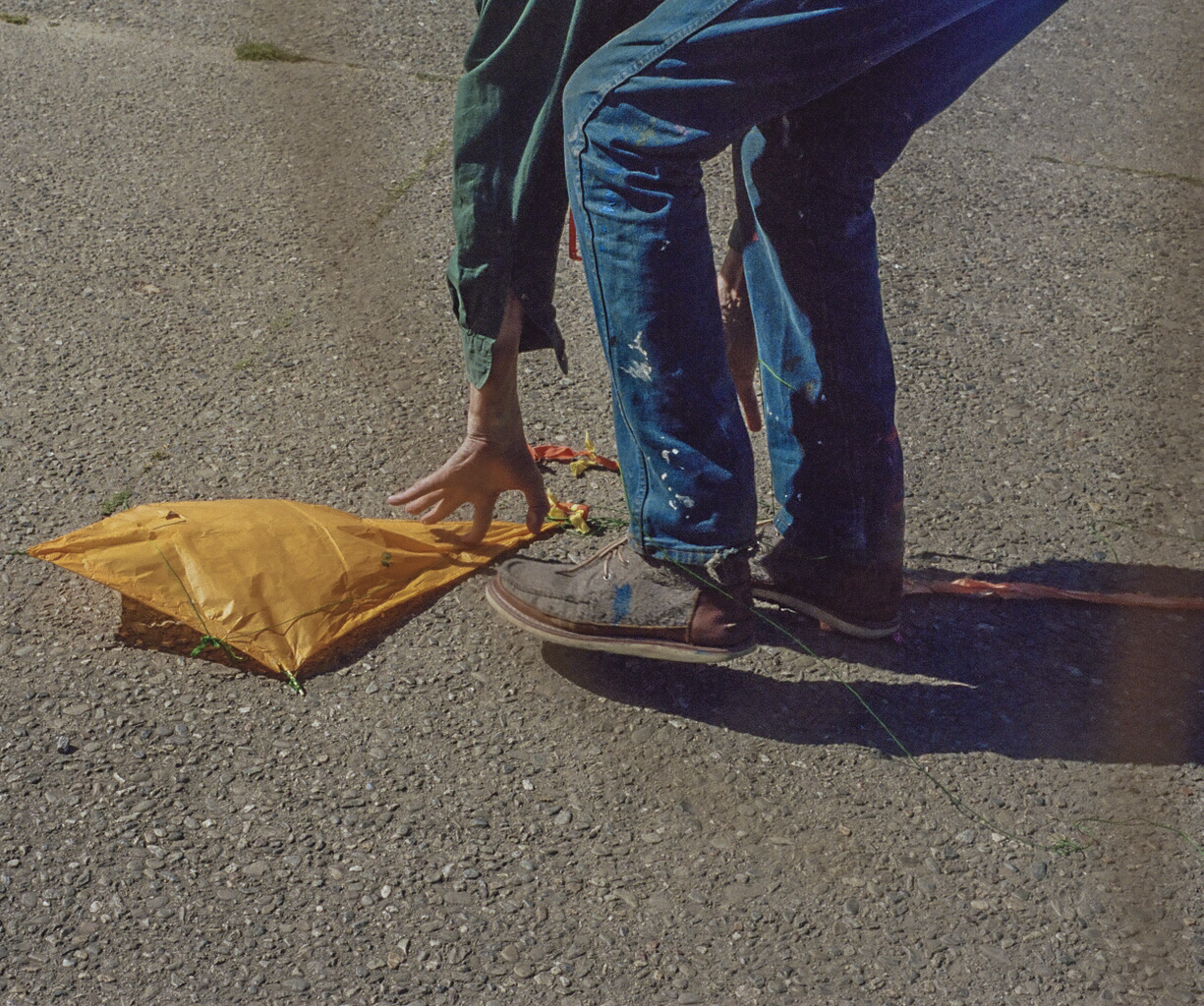 His small space also led him to get outside into nearby parks and revive a favorite childhood activity: kite flying.

"When I was a kid, I had to beg my dad for 50 cents. It cost 25 cents for string and 25 cents for kites. There was a company called Kite Flyer, out of Boulder, Colorado," he says. "I remember the specific kites, diamond-shaped ones like this. And I would get hours of fun out them."

Jeff's favorite spot to fly? Just a few blocks away from the Tenderloin, right in front of San Francisco's City Hall.

"People always ask, "Why don't you go to the beach? But I don't want to go to the beach," Jeff says. "This is my neighborhood."